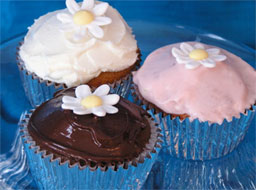 Less cupcakes in Felton's future?
It looks like Felton may be on the verge of
making progress in the scheduling area
. At the Macon Bulldog Club meeting, Felton said:
"the upcoming non-conference schedule includes a visit from Wisconsin - which he called a Final Four contender - and he's hoping to land Arizona."
Many Dawg fans (
particularly
this
one
) have been very critical of Felton's scheduling. While I fully realize that we didn't have the talent to beat Duke, Florida and UConn, we did have the talent to avoid scheduling sub-RPI 250 teams like Savannah State, Fordham and Eastern Kentucky.
And, as was reported on the Rivals hoops board by Groo, we were 5-2 vs. NIT teams last year. So we can play competitively with the mid-tier teams.
I like the possible addition of Wisconsin and 'Zona. It might a bit too ambitious but at this point I'd rather him sway too far in that direction that the way he's gone in the past. Interesting match-ups pre-season are a GREAT way to re-energize a fan base that where apathy has risen to its highest levels in the past 17 years that I've been following the program.
Felton points towards a better schedule
The rumors don't stop with Wisconsin and Arizona. MemphisDog over on the Rivals b-ball board does a better job than anyone of sniffing out the latest hoops scheduling rumors. The
latest he's hearing UGA vs. Gonzaga
in Athens this coming season. I try to keep the rumors to a minimum, but MemphisDog's track record is ridiculously good. Plus, the Gonzaga fans had been hinting at this for a while.
So if everything came together that would make a schedule that looked something like this:
Western Kentucky -- Home (Year 3 of the contract)
Clemson -- Away (Year 4 of the deal)
Georgia Tech -- Away
Gonzaga -- Home
Wisconsin -- Home
Arizona -- TBD
We'll post more if more gets leaked.
The good news. He'll be gone next year.
I'm in such a good mood about this that I'm going to let Felton's comment about scheduling tougher last year than the year before go.
pwd