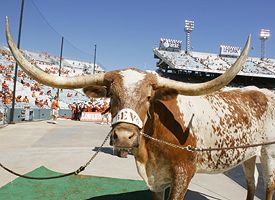 Image: ESPN.com
Non-dawg, but as much as we love Uga VI, I figure Georgia fans have empathy when another team loses their mascot.
(ESPN) Austin, Texas -- Bevo XIII, the longest-tenured mascot in Texas Longhorns history, has gone to the big ranch in the sky.
The retired mascot died Monday on the private ranch where he lived with his successor, Bevo XIV, the Silver Spurs spirit club announced Tuesday. Bevo XIII, 22, was on the Texas sideline for 16 seasons, starting in 1988.
Why "Bevo" for the name:
Pinckney presented the well-traveled steer to the UT student body on Thanksgiving Day 1916. The two-legged Longhorns went on to defeat Texas A&M 21-7, avenging a 13-0 loss to the Aggies the year before.

For a time there was talk of branding the steer with a big T and the numbers 21-7, but the notion was overridden as cruel. The holidays came and went and then it was February. On the morning of Feb. 11, 1917 the owner of the stockyard where the longhorn was kept made a startling discovery: Intruders, presumably Aggies, had slipped up on the penned mascot and used a red hot running iron to sear the 13-0 score from 1915 on the steer's flank.

The steer's embarrassed student handlers, in turn, soon came up with a clever way to save face for their school, though it was a little hard on their mascot. The UT partisans converted the 13 into a B, the hyphen into an e and inserted a V in front of the zero. That spelled Bevo, the brand name of a popular near beer.
Other Bevo Links:
PWD