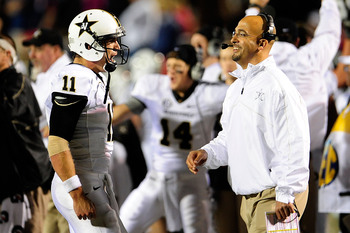 Image: Stacey Revere/Getty Images
At least one Bleacher Report writer thinks so. In his (I'm sure well researched and reasoned) 26 slide artipresentacle, Alex Callos shows off some serious Vandy wood.
First out of the gate, he has Vandy
beating
South Carolina. Callos thinks "Vanderbilt proved last season that it could hang with the big boys" and cites them winning 9 games last year. And Jordan Mathews! Of course, the combined record of those 9 teams was 35-63 (not counting the Presbyterian win). Their marquee win? A toss up between 7-6 Mississippi and 7-6
NOTORIOUS TOB
NC State in the Music City Bowl. OH MY GOD THEY WON A BOWL GAME, TOO?
Moving along to
Vanderbilt over Florida
:
The 2013 version of this game might be lower scoring than the 2012 contest, and the talented Florida secondary will have to try to find a way to stop Vanderbilt wide receiver Jordan Mathews.
I'm starting to see a theme.
Then, we get to Vandy
over
Georgia. Because "The Commodores have the defense and coaching to hang around with anybody." Did you know they had the "15th ranked defense in the country last year, only allowing 18.7 ppg?" Apparently, they were. And they are returning over half their defensive starters! And they gave up only 33.8 ppg to teams with winning records last season!
Couple of other gems, he has Toledo over Florida, Tech over Georgia, Vanderbilt over Texas A&M, Kentucky over Louisville, Arkansas over South Carolina, Syracuse over Florida State, and Vanderbilt over the '85 Chicago Bears.
Hey, even a blind hog will find an acorn, right?
TD